Life stories impact UW student historians
Students in Dr. Leslie Bellais's History 401 class are required to use historic objects as a lens to the past. The objects tell the story of people and communities who are often forgotten.
One such intriguing story is exemplified by a brass Civil War medal, which belonged to Native American Stephen Nicholas, one of the first residents of Chilton, Wisconsin. Nicholas was a member of the Stockbridge-Munsee tribe—a combination of two tribal groups who joined together when New England residents forced them out of the region. Nicholas arrived in Calumet County, Wisconsin as a child accompanied by his grandparents, who founded Chilton, in the early 1840s. On September 1, 1861, he enlisted in the U.S. Army, joining the 1st Wisconsin Cavalry. Like many other Native Americans in the Civil War, Nicholas worked as a scout.
In August 1862, after Nicholas and the rest of the 1st Wisconsin Cavalry freed over 100 slaves in a raid in Arkansas, Confederate Texas Rangers retaliated and captured not only many of the slaves, but also Nicholas and his fellow soldiers. While a POW, a Confederate general offered Nicholas a chance at freedom if he would desert the Union army. When he refused, members of his regiment fashioned a brass medal for him to honor his service and bravery. This was a particularly powerful statement because of the prejudice Native American veterans faced from their white peers. [
www link
. QR below]
Savannah Houdeshell, a recent graduate of the University of Wisconsin-Madison with a degree Anthropology and certificates in African Studies and History, researched the Civil War medal using the resources of the Calumet County Historical Society. This work appealed to her combined interests in military history and the treatment of Native Americans. Houdeshell plans a career as a naval aviator this summer.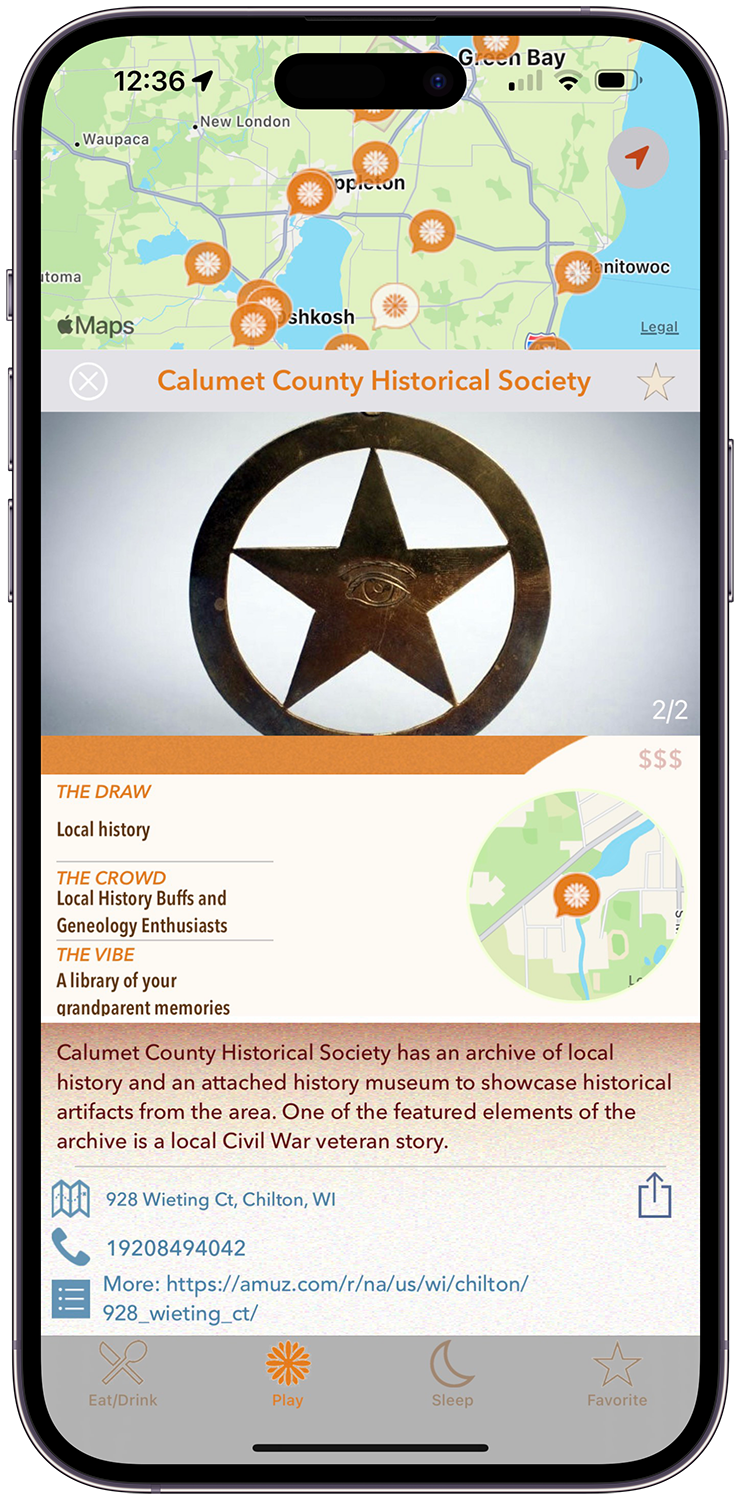 History 401 leverages the amuz app [
app store
] to publish the student research. The idea is to help students learn in a modern way. They must do research, determine why the story might resonate with the app's audience, and then share their work via a video, multi-media, and a timeline presentation. The object is geolocated so explorers can find areas of interest wherever they travel using the app. Press Release [PDF]
inquiries: nancy@amuz.com