Traveling east recently on I-70, near Avon, CO, a curious notification appeared on my iPhone (I was a passenger at the time):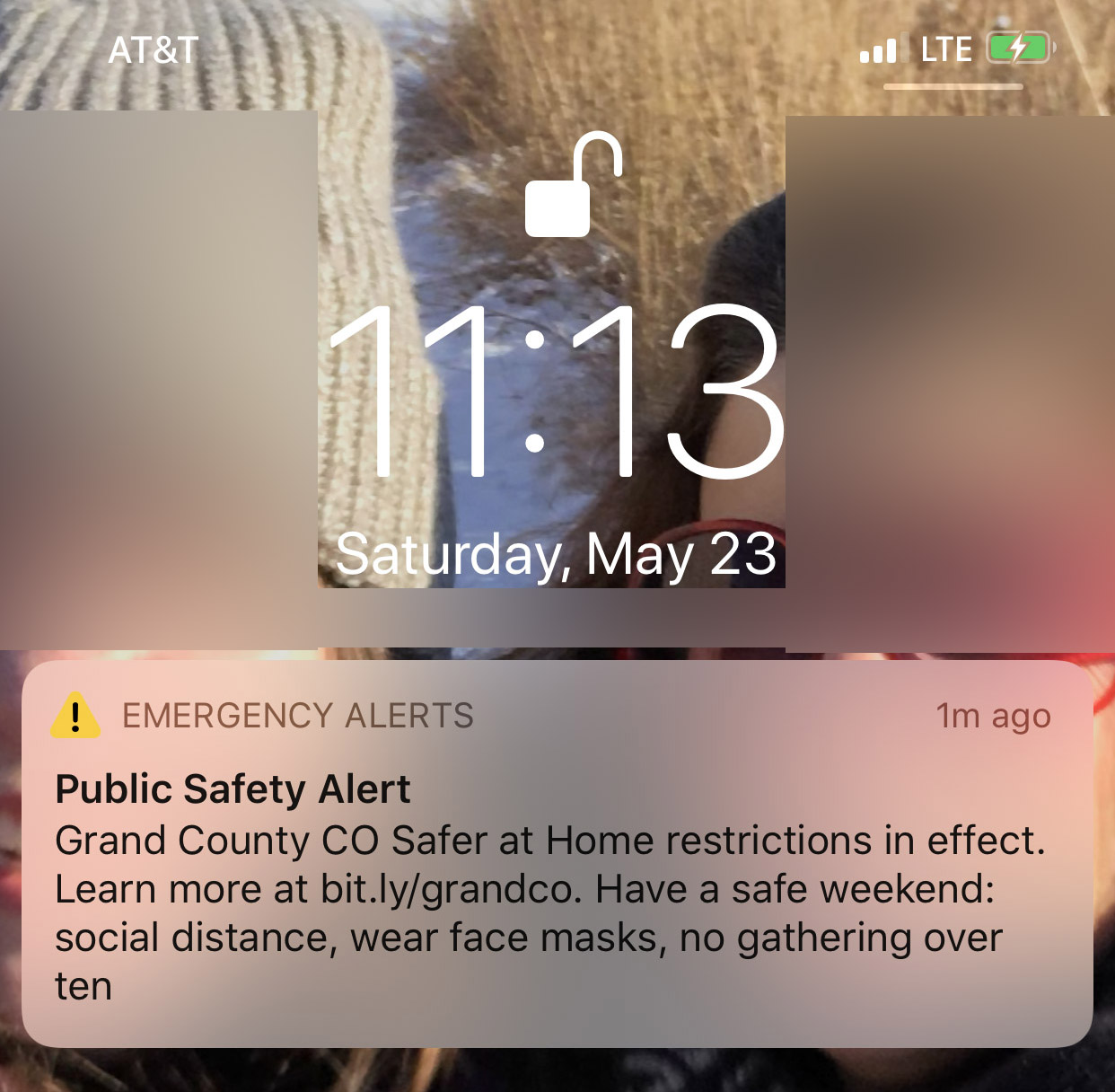 Curious, since:
I don't live in Grand County.
I've not been since 2015, for a wedding.
Our drive through Colorado included I-70 and a few quick stops in Denver, before proceeding east on I-76. We did not visit Grand County.
I emailed Brene Belew, Grand County's Public Health Director:
Hi Brene:

I hope that you, your family and colleagues are well.

While driving (moving a daughter) last Saturday, 23 May 2020 on I-70, west of Beaver Creek, I received an iPhone notification (attached).

I write to see how this occurred, as:

A. I don't live in Grand County - though that would be quite pleasant.

B. I've not been since 2015 (I think, for a wedding), and,

C. Our drive through Colorado included I-70 and a few quick stops in Denver, before proceeding east on I-76.

I did not receive an alert for Eagle County, CO (or others), for example, despite driving through and stopping for gasoline.

Do you know what rules AT&T, or Apple applied to the alert // recipients?

Best wishes,


Jim
I received an email response from Brett Schroetlin, the Grand County Sheriff:
Mr Zellmer-

Brene forwarded your email to me since the Grand County Communications Center and our alert warning systems fall under my Divisions at the Sheriff's Office.

Previously, Grand County has been using CodeRed for our emergency notification. Recently a federal program through FEMA was released called IPAWS (Integrated Public Alert & Warning System) . IPAWS utilizes newer technology, which includes pulling data from cellular towers for Message distribution.

When we deployed the IPAWS message on Memorial weekend, we had several people let us know that they were outside the confines of our county and still received an alert.

We have looked in to this and determined that the phones receiving these messages were receiving cell service from our local towers during the window of time our message as active. So, it would appear that your phone just attached to our tower as you drove though and hadn't transitioned to another tower before the message was sent.

My apologies for any inconvenience this caused. As with any deployment like this, there are lessons learned and we are working to minimize this in the future.

Please let me know if you have any further questions.

Brett Schroetlin
Grand County Sheriff