Sara Toth Stub
:
Significant technological hurdles stand in the way of their ultimate vision. The amount of data needed for live, 360-degree, three-dimensional video isn't possible to transmit without significant time lags on current wireless networks, said Jacob Chakareski, who runs the Laboratory for Immersive Communication at the University of Alabama. Headsets tend to be clunky and expensive, and the systems require additional graphics cards and cables, he said. The emergence of ultrafast 5G wireless networks and computing that would allow data to be processed closer to devices—rather than in the cloud—could help these issues. But 5G service is still in its infancy, particularly in the U.S. Some startups are already developing live VR without drones. Students who attend New York's Fordham University, which has two campuses, can use a service called Chimera, developed by New York-based startup Pagoni VR, to sit in on live classes on the other campus. Immertec, a Tampa-based startup, partnered with Johnson & Johnson to provide physicians with live, VR-enabled streams of real surgical procedures at dozens of U.S. hospitals, including Baylor Scott & White Surgical Hospital at Sherman and Vitruvio Institute of Medical Advancement in Dallas.
Hmm. Explore the world with a few taps in
amuz
: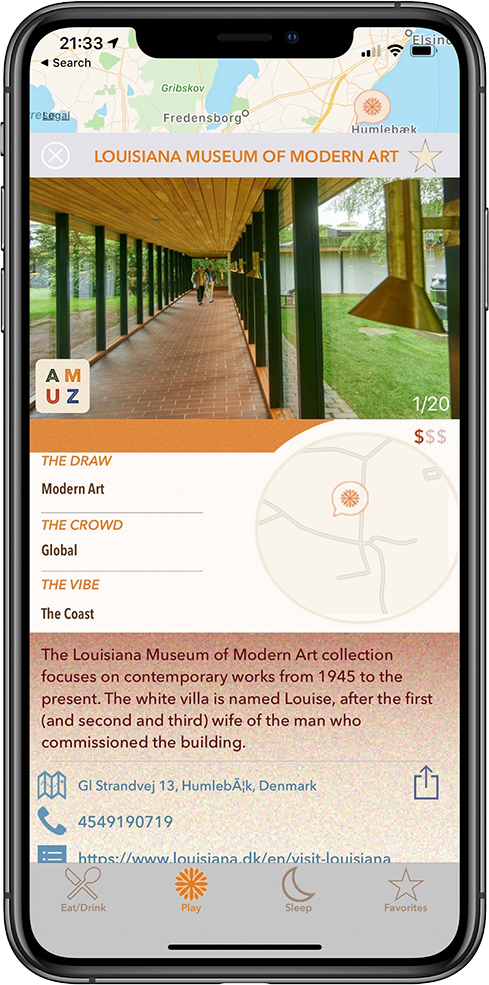 Louisiana Museum of Modern Art.